Title
: The Impaler Legacy Omnibus
Author
: Ioana Visan
Release Date:
March 2014
Genre
: Fantasy, Paranormal
Book Description:
In a world crawling with vampires, Romania is the safest place left on earth. Thanks to the Little Council, there hasn't been a vampire on Romanian ground in over five centuries, until one day when Liana Cantacuzino is ordered to bring one in, covertly.

Enter Maximilien Hess, a thousand-year-old vampire determined to ruin the existing order of things. When all is revealed, Hess's secret changes everything, and a reluctant alliance is formed because the alternative is much worse.

The Impaler Legacy Omnibus, a vampire saga like no other.
Buy Links
:
Amazon
,
Barnes & Noble
,
iTunes
,
Smashwords
DAILY OFFER
DOWNLOAD

HUMAN INSTINCTS

FOR FREE!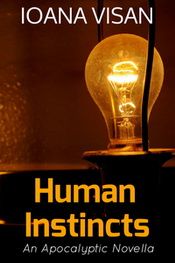 Dr. Deanna Nichols is a geneticist searching for a cure to save the world. After the war nearly destroyed it by releasing an aggressive virus, it was the vaccine that killed the humanity's chances for progress and survival. Deanna feels guilty because she has participated in creating the vaccine, and General Mackenzie never lets her forget that.

Their luck changes when they are contacted by the convicts held in a secret military prison hidden in the arctic desert. The C deviance criminals are willing to negotiate and provide unaffected DNA samples in exchange for supplies and a visit paid by the doctor herself. Suddenly there's hope, so Deanna embarks on a dangerous journey to a grittier reality than she had expected.

Could a woman alone save the world?
Download it from Smashwords using the coupon code
EE34J

.
Offer only available today,

April 8, 2014

!
Author Bio
:
Award-winning writer Ioana Visan has always dreamed about reaching the stars, but since she can't, she writes about it.

After fighting the apocalypse aftermath in "Human Instincts", she played with shapeshifters in "Blue Moon Café Series: Where Shifters Meet for Drinks", and then she dealt with vampires in "The Impaler Legacy" series, before tackling longer works like a fantasy trilogy and a science fiction series.

Aside from publishing short stories in various Romanian magazines and anthologies, she published a Romanian short story collection "Efectul de nautil" and the Romanian edition of "Human Instincts".

She was awarded the Encouragement Award by The European Science Fiction Society at Eurocon 2013.
Author Links
:
Website
*
Blog
*
Facebook
*
Twitter
*
Goodreads
*
Amazon
a Rafflecopter giveaway